Yippee! I was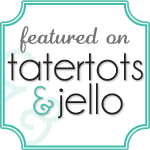 Since I am a big dork I started singing about how I love Tatertots & Jello. Now my 6 year old is building with his Legos singing "Let's all sing about the Jeeeellllo. Let's all sing about the Tatertots." Pretty cute, but I am terribly sorry that I passed along the dorky gene.
I had no idea that I had been one of the projects listed on
"37 Organizing Projects for 2012!"
. To be honest, I had to much to do and to much that needed to be organized to be reading about getting organized. Does that make sense?
If you would like to see some great ideas for organizing your home, go and check it out.
I think my favorite is turning a closet into an
office nook
by Twenty Three Oh One. I think I loved the idea because I have done it before, but mine was no where near this cute! It is so beautiful. I love it! She took such a tiny space and made it into a really functional and attractive work space.
I also like the idea of the
Kids Weekly Clipboard
by Junk in their Trunk. I have been thinking I need to set up something like this for my kids. It is pretty cool when someone else seems to have climbed right in my head and create my project for me!