I usually don't blog on the weekend. I am completely busy with sports, church, choir and just being with my kids. This weekend has been a very exciting one for me in the "blog world" and I just had to share my excitement! I found out I was: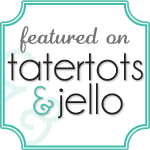 Wow! I found out when someone commented on my blog congratulating me on being featured. Yikes! What? I read Tatertots & Jello faithfully...just ask my kids. They find it hilarious! Tatertots & Jello? This is a BIG deal in my world of this new blog endeavor! My kids are really proud of me, which makes it even more rewarding.
Yesterday afternoon I got an email telling me:
Sunday afternoon I saw this:
I've read that if you want your blog to do well you've got to get it featured. Looks like this was my weekend. THANK YOU for all of you who have stopped by to come take a look at my little corner of the world. Your visit means more to me than you could possibly know. Thank you.